[schema type="product" url="https://stateofguns.com/schmeisser-ar-15-ultramatch-sts/" name="AR-15 Ultramatch STS" manfu="Schmeisser Germany GmbH" model="AR-15″ ]
While it was originally thought of as one of the classic combat guns, this type of rifle became very popular and is being used with increasing regularity in competition ranges.
Another European company has entered the long list of manufacturers of American assault rifles of the AR-15/M-16 system which was designed by Eugen Stoner, and it includes countless types of the fourth generation in the M-4 carbine configuration. This time it is a newly founded factory "Schmeisser GmbH" from the German city of Krefeld. It was founded by Thomas Hof and Andreas Schumacher after they spent over 20 years of successful business of trading these very guns. When they realized the incredible popularity of this type of firearms, they founded the company with the intention to provide highest quality rifles of this type for the market of their country and Europe as a whole. While they made them for military-police and civilian purposes, their main thrust was competition rifles.
Having an ambitious idea, to offer German top-quality firearms, they founded an excellent modern factory. Using most modern technologies, where some parts are constructed from finest materials while others are purchased from select manufacturers. The final product is truly first-class with an acceptable price.
Two Models
Tested models of AR-15 Ultramatch STS are second versions with maximum performance for this calibre. They have free floating, cold forged, thick barrels 508 mm (20 inches) or 610 mm (24 inches) long with four grooves and right-hand twist rate of 1:203 mm (1:8 inches) in longer and 1:228 mm (1:9 inches) in shorter barrels. Barrels themselves are superb, match grade, made by German company "Lothar Walther". They are lightened with cannelures throughout their length and made from stainless steel. These barrels, due to their quality and configuration provide good accuracy and efficiency, making AR-15 Ultramatch STS exceptionally effective even at distances of over 300 meters. Due to its explicitly competition construction, rifles do not have unnecessary frills, such as classic fixed sights.
Hull consists from two parts, but it is especially well made. Mil-Spec 7075 T6, specially reinforced, forged alloy of aluminium made for aircraft industry was used in its construction, giving it extraordinary solidity. Grip lever is made from soft plastic, with increased contour after "Magpul" competition types and offers excellent control. The gunstock is simple but excellent, made from ABS plastic, A-2 type with straight line construction. Barrel coating is fluted, made from the same quad-rail alloy of aluminium, with four MIL-STD-1913 Picattiny full-length rails. They enable mounting of optic sights of all types, auxiliary folding sights as well as other add-ons that are not part of the basic kit.
Quality Manufacture
The testing of "Schmeisser" rifles began with detailed and careful examination in order to determine their general quality and functionality. High quality of all parts is apparent at first glance. Final processing and finish are superb, and show excellent eye for detail, which is characteristic of this system. Parts from which rifles were assembled were carefully selected in such a way to adapt the weapon to competition use without being burdened with unnecessary (mainly decorative) details, that have no real purpose in real combat; aside from making the weapon look more "serious". On the other hand, the rifles are carefully assembled, they work smoothly, easily and silently; which is by itself a sufficient proof of their high quality. They are delivered in cloth bag with two plastic clips (modelled after the ones of "Magpul" company) with the capacity of 10 and 30 bullets.
Their basic advantage is specific straight construction, with axis of the barrel positioned on the centre of support on the shoulder. That makes it easier to control recoil due to different force dispersion. Compared to most other systems, it is also better balanced (its centre of mass being around the clip) and has excellent ergonomic controls making its use extremely comfortable.
One of the main failings of this system, including this model is of course its notorious direct impingement system. Although this system ensures excellent accuracy, it has as a consequence, an insufficient work reliability and increased sensitivity to dirt, soot, and especially moisture. This has given the AR-15/M-16 rifles bad reputation as a military weapon, although there is no essential significance in their efficiency for police or civilian use where they function superbly with proper cleaning and maintenance.
Construction-wise, these rifles do not bring anything new, but they are truly excellent, accurate and of high quality up to the limits of the system itself.
Excellent at the Range
Concerning accuracy, this rifle has fulfilled the expectations at the firing range. Although it was examined with seven types of conventional commercially available ammunition of this calibre, at the distances of 100 and 200 meters, it has expectedly achieved best results with two types of heavy ammunition that are the only ones that fit this type of barrel. For the purpose of this test, we have equipped the rifles with two types of commercial sights that are sued on this type of weapon. These are reflex EOTech 512 and tactical optical sight 1-4×32 Pitbull made by "IOR Vladada" company. Thus equipped, we have tested the rifles with five types of FMJ and SJ ammunition with light bullets, M-193 and SS-109 construction; the best groups did not do better than 78-80 mm spread, as was expected. Using Federal Gold Medal Match with Sierra Match King weighing 4.99 grams (77grs) was a whole another story, the best group dropped to 40 mm (with both rifles despite the difference in length and twist rate). With the PPU Match ammunition with FMJ HPBT ammunition weighing 4.86 grams (75 grs), the best group was only 5 mm wider. It should be noted that due to the different barrel length and twist rate, and with higher magnification optics there would have likely been differences in spread that were not noticeable here. On the other hand, both rifles are excellently balanced and designed, making shooting with them equally comfortable both with and without stabilizer. Bullet groupings confirmed that the rifles AR-15 Ultramatch STS really have competition accuracy on the level that is expected from top of the line models for IPSC sport.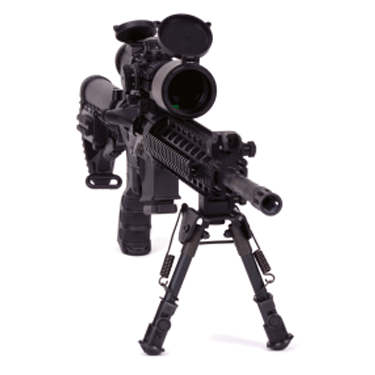 The surprise lay in the plastic 30 round magazines, that have several times halted the rapid fire, but replacing them with original "Colt" magazines made of forged aluminium made the problem go away.  This is the only complaint that could be given about these rifles, excepting the consideration that for the base price of 2.800 € apiece, the manufacturers could have offered rubber rail covers that are in the slide profile and make the grip easier.
In general, it can be concluded that the weapon such as AR-15 Ultramatch STS is a truly excellent competition rifle, with expected accuracy of 1.5 MOA (Minute of Angle) and high quality manufacture in the best tradition of German arms industry. The need for this type of weapon has existed for some time, so the timing of its appearance on the market is impeccable.
Images by schmeisser-germany.de.