I can't be certain but I believe the first time I saw an MP5 sub-machine gun was in Die Hard 2. John McClane gets his hands on one after taking out an enemy with his pistol and from there the MP5 and its variants are peppered throughout the movie. Following that movie, I couldn't help but notice this firearm in so many other movies and TV shows. It's like how shortly after you buy a car you begin to notice the same car as yours all over town, well the MP5 is also pretty common. Skip forward two decades with the coolness factor of the MP5 still strong, manufacturers have begun to make an affordable 22 LR variant. GSG was the first to release the MP5 chambered in .22 but legal issues and reliability problems were synonymous with its name. (This HK mp5 22lr review is based strictly on what I have read on forums about their older model. I hope someday I can test their new GSG-522 and when that happens I will be sure to put up a review here, at 22gunreview.com)
HK MP5 22lr Review
I decided to take the plunge following the release of the officially licensed H&K MP5A5 22 LR and I'm so glad I did. This thing is cool in your hands but more importantly, it is accurate, reliable, and fun to shoot.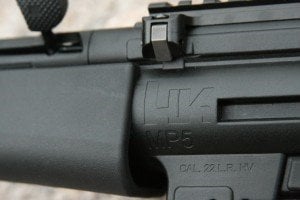 Let's start this review with build quality. This firearm is solid in your hands, with full-size MP5 weight and feel. The bolt release is the real deal and a joy to slap when ready to fire. The retractable stock has a little play from side to side when extended but once locked in against your shoulder you won't even notice and confidence isn't lost. The magazines are easy to load and with two ways to release the mag, you can find what best suits your style of reloading. I am a lefty and the ambi mag release is nice to have. Speaking of ambi, the safety/fire selector easy to use from both sides of the firearm as well.
Accuracy is spot on. I have yet to attach any aftermarket sight but when aiming down the iron sights I was placing tight groups at the 25-50 foot range. For fun, I tried for the 100-foot target and wasn't having that much luck, but let's be honest this is a close combat style weapon and in that range, it does well. Did I mention that I made no adjustment to the sights; this thing is out of the box accurate!
I have only been out once to shoot this rifle, 100+ rounds, and I am happy to report that I had no failure to feeds, ejects, or any other malfunctions while using Federal rimfire ammo for sale I, fortunately, found digging online. With warm weather on the way I plan on feeding a lot more bullets through this, so look for an update in a couple of months down the road.
There are some really good accessories for this weapon and some lesser expensive airsoft items that will work (ie. magazine couplers, hand-guards). Currently, I have a top mounted Picatinny rail for my red dot sight. I did buy a tri-rail fore-grip but found it to be too bulky and unnatural to hold. I have decided instead to buy the fore-grip with the integrated flashlight as this will feel the same in hand while adding a useful tool. The rifle comes with one magazine and buying additional mags can be expensive, ranging in the price from $40-$50. Ouch.
Personally, I don't want to change a lot about this firearm so that will be the extent of what I add. However, I do plan to remove something, about 6.5 inches of the barrel with a form 1 from the ATF. For those who would like to follow suit and want to add a suppressor, you would have to switch out the barrel with the HK416 pistol barrel. The MP5 22's barrel is a pencil barrel and is too thin to thread. When that time comes I will leave the barrel in place when chopping it. I don't want to spend the extra money for the option of adding a suppressor and I don't want to add length to a gun I just paid to shorten.
Overall, I really enjoy this gun and can't wait to make the above-mentioned modifications. This is a purchase well worth making and a fun addition to add to your collection.
Author Bio: An avid blogger Douglas Brooks is extremely fond of living his life on the edge. A major believer in the adventure associated with hunting he likes to put all his experiences on paper. Quite passionate about the outdoors and the wild he loves to inform people about the problems he had to face and suggest ways to overcome them.