[schema type="product" url="http://www.changhe.com/english.htm" manfu="Changhe Aircraft Industries Corporation" model="CAIC Z-10″ ]
The Chinese Enigma
According to data available, China has around sixty operational Z-10 helicopters. This a truly modern Chinese attack helicopter with a plethora of subsystems… most of which are based on foreign solutions.
Z-10 is one of the newest attack helicopters in the world. PRC Army has used all the know-how they could get, relying on both domestic and foreign solutions (obtained both legally and otherwise) to develop this aircraft. The end result is a helicopter that looks a lot like the Italian T-129 Mangusta, only upscaled to the size of AH-64 Apache.
Hit and Run
Many analyses during the 70s and 80s of the last century heralded the attack helicopters as the perfect tank killer. That type of helicopter first appeared during Vietnam War, when the US army, developed the AH-1 Cobra. The Cobra was based on the UH-1 Huey, but it only kept the propulsion. The new sleeker, narrower and armored hull sported powerful weapons; the nose carried a machine gun, cannon or grenade launcher depending on the situation and its small wings were basically missile platforms. The eastern view was somewhat different; the Soviets developed the Mi-24, significantly larger and heavier helicopter. Along with its armaments, it could carry up to 8 soldiers. Although they appeared to fulfill the same combat role, they used completely different engagement doctrines. AH-1 and AH-64 became the long ranged hit and run attack helicopters, mainly designed to attack enemy armor. Mi-24 on the other hand, was a "flying infantry attack vehicle", it was mainly used for strafing runs and troop deployment. The firs design is the dominant in the world today.
Project 941
The Chinese Army, monitoring those tendencies and hoping to modernize its military, procured eight French helicopters Aérospatiale Gazelle – equipped with anti-armor guided missiles (Euromissile HOT). This was a trial run of the anti-tank combat using a helicopter. Next intended acquisitions were the Italian A129 Mangusta and then the US AH-1 Cobra. However, business deals fell through after the events at the Tiananmen Square in 1989. This forced the PRC to turn to Russia and attempt to acquire the Mi-24 and Mi-28; again, they did not succeed. In the meantime they used the homemade Harbin Z-9 and licensed French AS365 Dauphin. However, since these were universal helicopters, they were still on the lookout for a true match for specialized foreign helicopters. So they started developing a combat helicopter of their own. Unfortunately, during the early nineties, China simply did not have the perquisite experience and expertise for that task. That is why they hired a Russian construction bureau "Kamov" which developed the Project 941 as a basis for the Chinese aircraft. South African "Denel" was also brought in to solve a vibration problem.
Chinese Engine
The Z-10 is a classic helicopter with five bladed propeller and a tail rotor. WhileFenestron configuration was considered the tail rotor, due to the someproblems with the design, like higher power requirement, higher construction and maintenance cost, higher resistance and weight, the design was dropped after test flights, and a more conventional tail rotor configuration was adopted. This helicopter has two offset tail rotors which both saves power and reduces noise. This construction is very similar to that of the AH-64 Apache and completely different from Kamov helicopters.
Numerous engines were used in during prototype design. From Canadian Pratt & Whitney PT6C-67C, Russian Klimov VK-2500 from Mi-17 and Ukranian Motor-Sich TV3-117. With Russian and Ukrainian help, the Chinese manufacturers have managed to develop their own engine WZ-9. However, this engine (1,350 hp) has proven to be too weak for the 5.5/7 ton helicopter. For example, AH-64 with its mass of 5/8 tons uses an engine whose strength is 1,690-2,100 hp. With the aid of a French manufacturer "Turbomeca", a new engine was built, designated WZ-16. The new engine has horsepower of 2.000 and will allow carrying of 16 POVR HJ-10. Those missiles are the most important armament of this helicopter and should be equivalent to the US AGM-114.
Armaments
With a range of over 6 miles and weighing over 100 pounds these laser guided cannons can engage both land and air targets. Of course, TY-90 missiles are a much better option when engaging other helicopters, as they have been specifically developed for that purpose. The missiles have a range of 3.7 miles and they weigh 40 pounds. Warhead itself has a mass of 6 pounds. The Chinese army believes this missiles is much better when used by a helicopter than land-air versions launched off a Stinger or Igla. Z-10 can carry up to 4 TY-90 rockets. It also carries unguided rockets in 57, 90 and 130 mm calibers, as well as cannon armaments just below its nose. Nose turret can carry two machine guns with 7.62 and 12.7 rounds and one 14.5 mm heavy machine gun. It carries powerful 23, 25 and 30 mm cannons. 23 and 25 mm cannons are externally powered and made as copies of the US M242 Bushmaster. The 30 mm cannons are copies of reliable Russian designs 2A72. 7.62 and 12.7 machine guns have an arc of fire of 180° while other machine guns and cannons can fire in an arc of 130°
Universal Electronics
Sensors are crucial components for successful engagementof enemy targets. The helicopter nose carries multifunctional sensor system, developed on the basis of French and Israeli models running with Chinese software. Basically, this system consists from day TV and a night IR camera, combined with a laser device. The simplest system has a laser range finder for wire guided HJ-8 missiles, while the more advanced HJ-9 uses laser guidance. HJ-9A and HJ-10 use the most advanced semi-active laser guidance systems. The complex sensors are connected with targeting systems and HUD telemetry. It is very similar to the Honeywell M142 system used in AH-64 Apache. In addition, the crew can use night goggles and radar. Millimeter wave radar is designated YH and is an equivalent of the US AN-APG-78. The radar system still being developed, and due to its complexity and cost, it will probably not be installed in all operational combat helicopters. YH radar is a very light system, weighing only 150 pounds, especially when compared to its Russian equivalent that weighs over 300 pounds. There are no other information about the performance of this device.
Z-10 uses a universal data bus GJV-289A, making it compatible with both Western and Russian armaments and equipment. Cabins are digital and equipped with multifunctional displays. Application of HOTAS (hands at throttle and stick) ensures that the crew can fly the aircraft without taking their hands of the control sticks.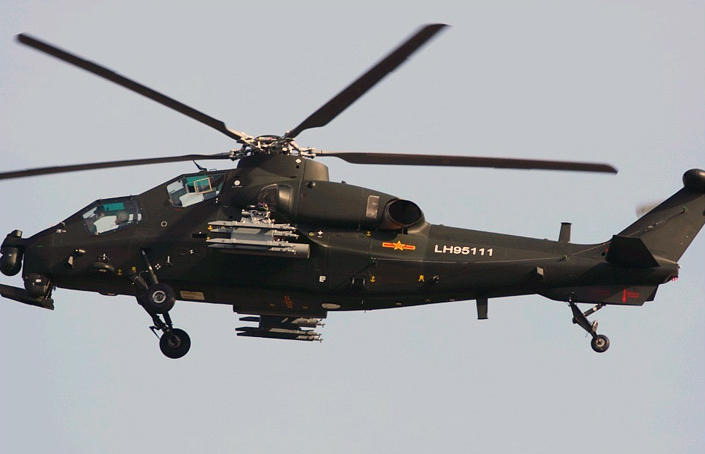 Problematic Market Access
The biggest concern for potential buyers of this helicopter are Chinese capabilities to provide long-term modernization options. Also, most systems and subsystems like the engine, avionics and sensors have been developed by foreign partners or they have been outright copied from other countries. Copying of foreign solutions is not a viable long-term solution. R&D takes time, and considering the lack of Chinese experience and infrastructure, the competition can beat them to the punch by placing a more polished product on the market. On the other hand dependence on foreign partners can carry strings the Chinese or their buyers may not be comfortable with. Z-10 is an uncertain prospect that does not fill foreign buyers with confidence. Another difficulty is market oversaturation, all potential buyers PRC can count on already use Mi-24 and Mi-35. Both Russia and South Africa face difficulties placing their own products in this category (Mi-28, Ka50/52 and Roovialk), and those countries already have much stronger independent R&D branches.
Pictures taken from: www.wikipedia.org