Serbian Army recently adopted a new Zastava M19 modular (MCS) rifle in 6.5×39mm Grendel and 7.62×39 mm calibers developed by Zastava Arms with the goal of replacing aging M70, a local derivate of AK47.  
Zastava Arms from Kragujevac, Serbia has a long history of quality guns and weapons manufacturing. For the last 50 years focus of manufacturer was focused on licensed AK variants, which are amongst the most quality variables of the AK systems globally. 
AK platform in its original state is now obsolete in various elements, so Zastava first introduced the M21 rifle, integrating new materials onto an old and trustworthy platform, but from data on the field (mostly foreign forces using it for private military personal armament) it was obvious that there is quite a lot of room for improvement, not only on the basis of the materials but also on the mechanism and caliber.
Introducing Zastava M19 MCS (Multi Caliber System) modular rifle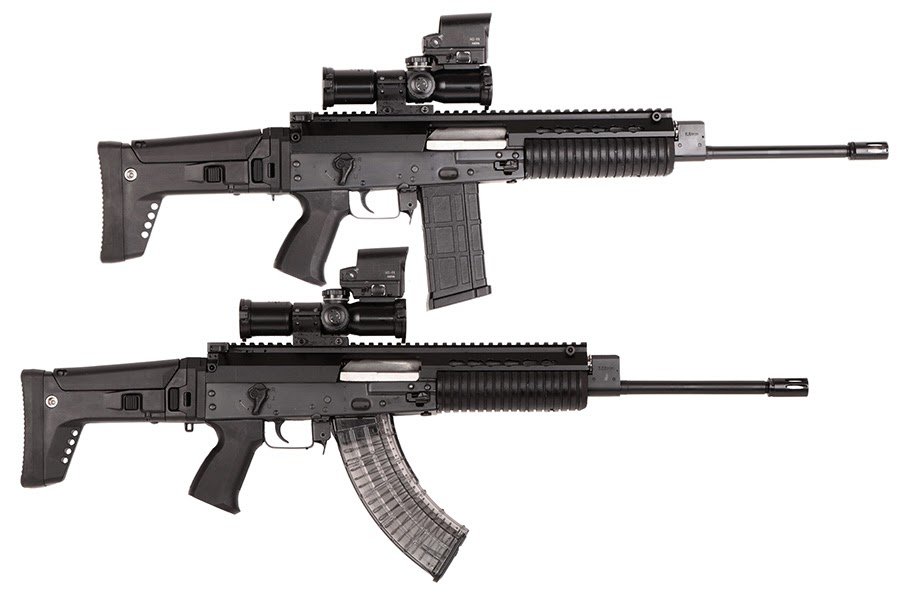 19 after 21 is a bit confusing in the nomenclature, but the new rifle is a real improvement in every important detail, compared with both AK47 and AK74, but also in comparison with a mentioned popular M-21 rifle.
Zastava M-19 main features
A modular rifle or MCS (Multi Caliber System) chambered in medium 6.5×39mm Grendel for power and range and cheap & available 7.62×39 mm for training
The effective range of 800 meters with 6.5 Grendel
Easy and quick replacement of the barrels, without disassembling the rifle and without using tools
Ambidextrous controls with AR-style central positioned charging handle
Cold forged chrome-lined barrels in various lengths (submachine gun, assault rifle, light machine gun or designated marksman rifle)
Integrated upper receiver with full-length top Picatinny rail with secondary rail under the receiver
SCAR-looking fully customizable folding-telescopic polymer buttstock with adjustable cheek rest
Comes with a 4×28 day and reflex optical sights, as well as a thermal sight
Working temperature range from -30 to +50 celsius
6.5×39mm Grendel / 7.62×39 mm caliber MCS modular rifle
As Cappy loves to say "everybody loves modular". Modular is the main buzzword of armies all around the world, but in this particular case, with this multi-caliber system and benefits and problems it solves, that description is attributed properly.
Improved ballistics of 6.5 Grendel is obvious by an increase in long-range impact and improved lethality but it's a "new" round with currently limited availability.
Keeping an option to use good ol' and globally available (in almost unlimited quantities) 7.62×39 enables cheap training, easier logistics and an option for less rich countries to mass adopt M-19.
6.5 Grendel vs 5.56×45 ballistics comparison
| | | |
| --- | --- | --- |
|   | 6.5 Grendel | 5.56×45 |
| Bullet | 123 | 55 |
| Muzzle Velocity | 2580 | 3265 |
| Muzzle Energy | 1818 | 1302 |
| Ballistic Coefficient | 0.506 | 0.272 |
| Velocity @ 250 yds. | 2164 | 2497 |
| Energy @ 250 yds. | 1280 | 707 |
| Velocity @ 500 yds. | 1790 | 1699 |
| Energy @ 500 yds. | 876 | 353 |
| Velocity @ 750 yds. | 1466 | 1185 |
| Energy @ 750 yds. | 587 | 172 |
| Velocity @ 1000 yds. | 1211 | 947 |
| Energy @ 1000 yds. | 400 | 110 |
It's not rainbows and unicorns with M19
Current design features have some room for additional improvement which would produce an almost perfect assault and battle rifle for a multitude of countries with budget challenges and without native small arms industry.  
These are some of the potential design issues with the current design issues of M-19 Zastava, which are probably fixable before mass production and adoption.
Lack of the bolt hold and release button
After the new magazine is inserted, an operator needs to use a charging handle to load a new bullet into the barrel. By adding a bolt release button that procedure would be much more streamlined, especially in lower positions, kneeling or prone. That would also add additional speed on reload and enable operators to keep their eyes on the target. 
Lack of charging handle on the right side of the rifle
You can use the only centrally positioned charging handle for both hands, which is not perfect in laying positions, and also increase the learning curve with users used to the old AK bolt mechanism where the charging handle is usually operated by using the left hand in various ways. 
Conclusion
Even with these issues, Zastava M19 is a modern assault/battle rifle designed and developed by the company with 169 years of experience in weapons manufacturing.
The rifle is adopted in the armament of the Armed Forces of the Republic of Serbia in smaller quantities, for final tests and feedback, so it is realistic that some additional changes will be requested and implemented before complete introduction in the whole force and potential commercialization and export.