Are you obsessed with the John Wick movie franchise? Me, too! 
One of the first things I noticed while watching the movies is the awesome weapons that are at the notorious assassin's disposal. While firearms such as the beautiful Glock 34 (TTI Combat Master Package) as his primary weapon or Benelli M4 Super 90 (TTI M4 Upgrade Package) for "end of the night, big, bold" are awesome, what occupied my mind (and heart) was definitely his "dessert" kickass automatic knife. 
If you kept on pausing the legendary fight scene on the train, asking yourself: "What kind of blade is that," I assure you that you are not the only one.
Yeah, I admit – I'm a huge fan of knives of all shapes and purposes.
Obsessed much? Probably! That is how I decided I needed one of the John Wick knives, and researching them was pretty easy, given their immense popularity.
John Wick OTF knife
John Wick appears to be using the out-the-front (OTF) automatic knife by Microtech. Named Microtech Combat Troodon, this OTF knife model has been in the limelight for quite some time now as probably the most reliable combat knife out there. 
Given that, it is not surprising that none of these iconic knife models comes cheap. While browsing their pricing, my reactions ranged from "Oh my God, can't even watch" to "Seriously? Have you lost your mind?!". 
That inspired me to go on a quest for more cost-effective OTF knives that share similar quality and reliability. I talked to a few knife experts and did detailed online research. That is when I encountered the mighty Tekto Skar OTF, which closely resembles the iconic Microtech Combat Troodon. 
A few clicks later (and some waiting time), this baby arrived wrapped in a sexy package, ready for a proper review.
So, here is what I learned about Skar model by Tekto Knives.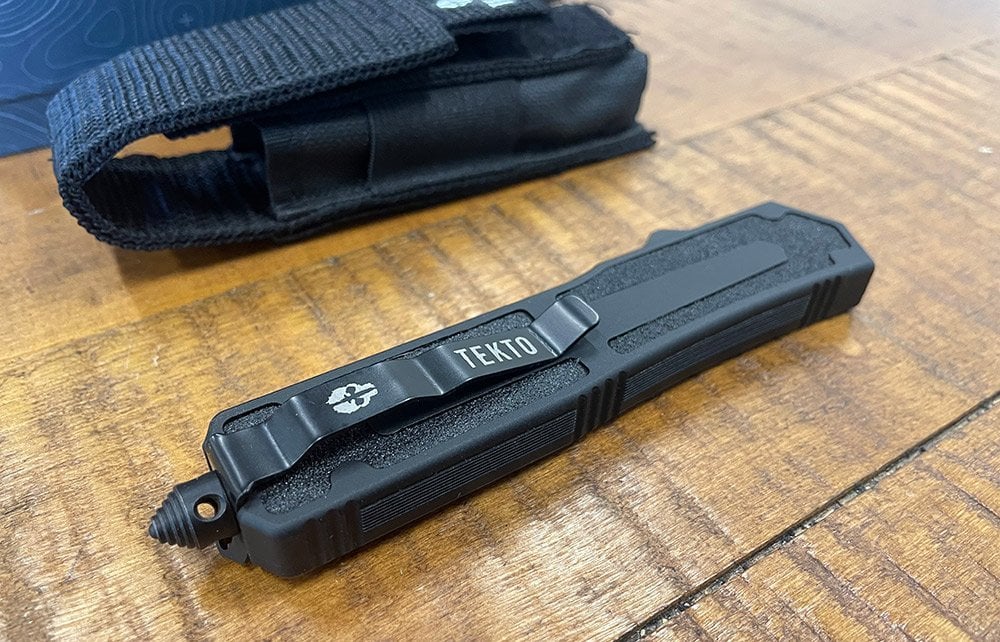 Tekto Skar OTF Features
Tekto Skar is the latest addition to the quite renowned Tekto knives family (Tekto knives was founded at 2016 in USA).
This is a double-edge (D/E) OTF automatic knife. For blade noobs, simply put, there is a cutting surface on both sides of the blade. The knife features a 3.75″ Tanto tipped spear point blade and has both straight and serrated sides. 
With a slick blacked-out aerospace handle made from aluminum, Tekto Skar is a handy versatile automatic knife. Most importantly, its design and used materials seems quality enough to last us average users for years to come. 
What Kind of Knife is Tekto Skar?
Tekto Skar is a double-action OTF automatic knife, meaning that the blade is deployed by pushing a button on the handle. Unlike single-action OTF knives, dual-action daggers automatically retract when the same control button is pressed again. 
Tekto Skar OTF Specifications
Manufacturer: Tekto
Blade Length: 3.75" (95mm)
Overall Length: 9.45" 
Blade Material: D2 steel
Blade Hardness: 60 HRC
Blade Shape: Double-edged Tanto Spear Point (straight and serrated edges)
Handle Length: 4.90″ (124mm)
Handle Finish: Black
Handle Material: Aluminum
Handle Color: Black
Blade Finish: PVD
Weight: 0.28lbs (161g)
Blade Locking: Button lock
Additional Features: deep carry pocket clip, glass pommel 

The Design of Tekto Skar OTF
Designed and built by Tekto, this powerful knife is made to impress. When it first arrived, it was love at first sight.
The All-Black Aluminum Handle
An all-black heavily textured handle made out of aluminum looks and feels like its more expensive counterparts but still keeps that John Wick vibe. So badass. 
The shape of the handle is ergonomic, super-comfortable to hold, and comes in a smooth finish. It provides a solid grip and a natural feel especially when the blade is in "business mode". 
An On-Brand Pocket Clip
Tekto Knives people know their customers well, so they made sure to include a removable deep carry pocket clip, for those looking to change a thing or two. Designed to glide with ease into the pocket, it features the iconic skull logo. 
To change the side or remove the clip you just need to do is unscrew the glass-breaker pommel and adjust it to your liking. 
A Super-Sharp Tanto-Tipped Blade
Are Tekto blades any good? Well, they are made out of the often commercially used, durable D2 high carbon, high chromium steel. This steel is well suited for a number of daily applications, from package opening to self-defense.
Its high wear resistance coupled with the exceptional hardness of the D2 steel makes this material a perfect choice for this knife type. The Tekto Skar is rated at a hardness between 58-60 HRC, which enables more effective edge retention but is more challenging to sharpen. Find more about knife sharpening methods in this comprehensive guide.
The Tanto-tipped spear point blade is deployed by pushing the button in and out. The button is designed with the utmost security in mind, preventing the blade from accidentally firing open and hurting the user or someone else. 
The Tekto Skar OTF Knife Setup
The knife arrives in one piece and is ready to be used right away. It requires no setup at all – clip it to your pocket and embark on a new adventure.
Like all other automatic knives out there, Tekto Skar needs to be adequately maintained so the mechanism keeps working without any hiccups. 
It's the pretty basic stuff – place the knife against a hard surface to keep it from opening. Next, remove the screws that keep the handle in place (there are six of them). 
Clean the components thoroughly and lubricate them before putting everything back again. I managed to finish the entire procedure surprisingly fast, which only adds to the awesomeness of the Tekto Skar knife.
Of course, any opening of the OTF knife does carry some risk of injury, so we do not recommend anybody to do this themselves.  

Are Tekto OTF knives good value for the price?
Are Tekto Knives Any Good? Tekto Skar Performance
The main question the average blade aficionado asks when first getting in contact with a "not top" manufacturer of knives in the USA is "are Tekto knives any good?"
It took me quite a few weeks of daily carry and usage to decide that Tekto Skar is a good, well-made knife that works as well as it looks.
From the budget perspective, it's definitely worth the price. Here's why:
Great Blade Sharpness "from the box"
When it first came out of the package, it was razor-sharp which is, I guess, its most significant advantage over similar products on the market. Most of the OTF knives usually require at least a few minutes on the sharpening system. Skar sharpness level is suitable to take it from the box to your pocket. Having two different blade sides (straight and serrated) are handy for daily tasks, too. 
While the mechanism may seem standard at first glance, it's far more than that. Tekto Skar is quite fast, and the mechanism feels and sounds smooth. 
Comfortable to Hold and Use
What I also liked about Tekto Skar is that it is built with great attention to detail. It feels natural in hand, and the grip on that finish is strong and not slippery in all scenarios.
Most importantly, there is no annoying rattling sound when you shake it or give it a slight hit near the point of the blade. For some users, including me, that is a true game-changer. Nearly half of the knives in my collection have at least something moving inside and making noise. 
It's usually not a big deal, but to me, rattling is super-annoying. It makes the knife feel cheap, fragile, and poorly constructed. It also brings the knife's reliability into question. I don't know about you, but I don't want my knife to fall apart and fail me when I need it the most. Plus, when I hear the rattling sound, I'm always worried that it might reflect a major safety issue.
With Tekto Skar, I had nothing to fear. Everything on the knife is solid, nothing is moving around without purpose. This is a well-constructed automatic knife. Stout and sharp – Tekto Skar has earned my trust multiple times.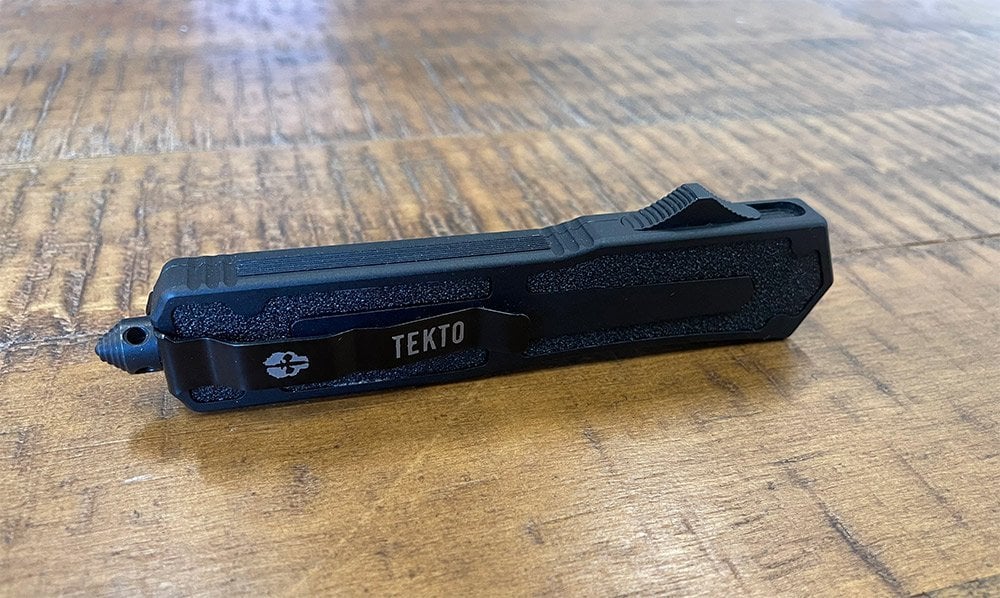 Are Tekto Knives Legal in your State?
Before purchasing any OTF knife, first make sure it is legal in your state. Even though the Federal Switchblade Act from 1958 regulates the sale of switchblades in the US, keep in mind that the possession and carry regulations for automatic knives are not uniform. They vary across different states. 
Despite the immense popularity of OTF knives, some states have completely banned them, while others have implemented strict requirements when it comes to their possession. That is why it is important to understand the laws in your state.
For example, in some states, selling automatic knives is not allowed, but their possession is. However, as long as you use your Tekto Skar OTF knife for legal purposes (which excludes hand-to-hand combat with badass assassins), you're good. 
Final Thoughts
I've already made a list of everything I liked about the Tekto Skar OTF knife.
Every aspect of it, from the mere construction to the visual appeal and the coolness, made me unleash my inner John Wick onto those pesky cardboard boxes, almost as if I was wearing a tailored Italian suit with imaginary bulletproof lining and asking an Italian "sommelier" opinion on suitable guns, who then recommend an AR-15…

John should stay in better hotels 😉
Again, an important note: Make sure to check if OTF knives are legal to own and cary in your state.